法言
Fayan - Model uitspraken
Fǎ yán [Fa yen].
Engelse titel: Exemplary Figures / Model sayings
auteurschap: Yang Xiong
Ook Yangzi fayan 揚子法言 "Model words by Master Yang
Ga naar de auteurspagina
Yang Xiong
---
Indeling tekst
Het boek bestaat tuit 13 hoofdstukken.
De Engelse vertaling hieronder is van Michael Nylan (2013)
01 學行 Xuexing - Learning and Practicing
02 吾子 Wuzi - Our Masters
03 修身 Xiushen - Cultivating One's Person
04 問道 Wendao - Asking about the Way
05 問神 Wenshen - Asking about Divine Insight
06 問明 Wenming - Asking about Illumination
07 寡見 Guajian - Things Rarely Seen
08 五百 Wubai - Every Five Hundred Years
09 先知 Xianzhi - Foresight
10 重黎 Zhongli - Chong and Li
11 淵騫 Yuanjian - Yan Yuan and Min Ziqian
12 君子 Junzi - The Noble Man
13 孝至 Xiaozhi - Honoring the Ancestors, the Ultimate Duty
---
Literatuur en vertalingen
Hieronder kunt u een selectie maken van de verschillende publicatievormen en de taal. Ik beperk me tot vier taalgebieden (Nederlands, Engels, Frans en Duits). De meeste literatuur is overigens engelstalig.
U kunt bij teksttype ook apart de vertalingen selecteren.
Boeken 1 tot 6 van de 6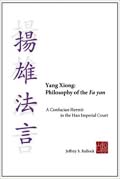 Bullock, Jeffrey S. (2011). Yang Xiong. Philosophy of the Fa yan: A Confucian Hermit in the Han Imperial Court. Mountain Mind Press.*
ISBN13: 978-0-9835502-0-4ISBN: 9780983550204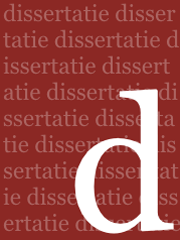 Colvin, Andrew (2001). Patterns of coherence in the Fa Yan. *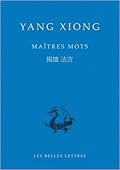 L'Haridon, Beatrice (2010). Yang Xiong, Maitres Mots. les belles lettres.
ISBN13: 978-2-251-10001-2ISBN: 9782251100012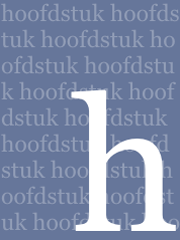 Nylan, Michael (2015). Structure and Anti-Structure, Convention and Counter-Convention: Clues to the Exemplary Figure's (Fayan) Construction of Yang Xiong as Classical Master. In Joachim Gentz, Literary Forms of Argument in Early China p 201-242. Brill
--- (2013). Yang Xiong. Exemplary figures: Fayan: Yang Xiong. University of Washington Press.*
ISBN13: 978-0-295-99289-1
Meer informatie...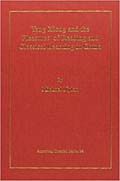 --- (2011). Yang Xiong and the pleasures of reading and classical learning in China.
ISBN13: 978-0-940490-32-1
Boeken 1 tot 6 van de 6