陶潛集
Tao Qian ji - Verzameld werk
.
Engelse titel: Collected works
https://www.wdl.org/en/item/17849/
Ga naar de auteurspagina
Tao Yuanming
---
Indeling tekst
Hieronder geef ik de gedichten weer die door Hightower 1970 zijn vertaald.
Poems in four-word meter
1. Hovering clouds
2. Progression of the Seasons
3. Trees in Bloom
4. For the Lord of Changsha
5. A Reply to Prefect Ting of Ch'ai-sang
6. A Reply to Adviser P'ang
7. An Exhortation to Farmers
8. On Naming My Son
9. Homing Birds
Occasional and other poems
10. Substance, Shadow, andSpirit (three poems)
11. The Double Ninth, In Retirement
12. Returning to the Farm (five poems)
13. An Outing on Hsieh Brook
14. To be shown to Chou Hsü-chih,Tsu Ch'i, and Hsieh Ching-i
15. Begging for Food
16. An Outing under the Cypress Trees at the Chou Family Graves
17. A Lament in the Ch'u Mode
18. In Reply to Adviser P'ang
19. Written on the First Day of the Fifth Month
20. Drinking Alone in the Rainy Season
21. On Moving House (two poems)
22. To Match a Poem by Liu, Prefect of Ch'ai-sang
23. To Liu, Prefect of Ch'ai-sang
24. A Reply to Secretary Kuo (two poems)
25. At General Wang's Party for Departing Guests
26. A Farewell to Yin T'ieh, Secretary at Chin-an
27. To Clerk Yang
28. At the Year's End: A Reply to the Attendant Chang
29. Reply to a Poem by Clerk Hu
30. A Lament for My Cousin, Chung-te
Dated and Other Poems
31. Lines written as I passed through Ch'ü-o
32. In the Fifth Month of the Year 400, Held up at Kueilin by Adverse Winds while Coming Back from the Capital (two poems)
33. Written at T'u-k'ou at Night during the Seventh Moon of the Year 401, while Returning to Chiang-ling after Leave
34. In Early Spring of the Year 403, Two Poems in Praise of Ancient Farmers
35. For my Cousin Ching-yuan, Written in the Twelfth Month, 403
36. As I Passed through Ch'ien-hsi on my Way to the Capital in the Third Month of 405
37. Returning to my Former Residence
38. In the Sixth Month of 408, Fire
39. The Ninth oft he Ninth Month, 409
40. Written in the Ninth Month of 410: On Harvesting the Early Rice in the West Field
41. The Eighth Month of 4I6: Harvest in the Field Hut at Hsia-sun
42. Twenty Poems After Drinking Wine
43. On Stopping Wine
44· An Account of Wine
45. Finding Fault with my Sons
46. Inspired by Events
47. Day of the Year's End Sacrifice
Poems on set themas
48. Imitations (nine poems)
49. Untitled Poems (twelve poems)
50. In Praise of Impoverished Gentlemen (seven poems)
51. In Praise of the Two Tutors Surnamed Shu
52. In Praise of the Three Good Men
53. In Praise of Ching K'o
54; On Reading the Seas and Mountains Classic (thirteen poems)
55. Bearers' Songs (three poems)
56. The Peach Blossom Spring
Rhaposdies
60. Lament for Gentlemen Bornout of their Time
61. Stilling the Passions
62. The Return
---
Literatuur en vertalingen
Hieronder kunt u een selectie maken van de verschillende publicatievormen en de taal. Ik beperk me tot vier taalgebieden (Nederlands, Engels, Frans en Duits). De meeste literatuur is overigens engelstalig.
U kunt bij teksttype ook apart de vertalingen selecteren.
Boeken 1 tot 5 van de 5
Davis, A.R. (1983). T'ao Yüan-ming, (AD 365-427) : his works and their meaning Vol 1 en Vol 2. Cambridge University Press.
herdruk 2009 reeks Cambridge studies in Chinese history, literature, and institutions
ISBN13: 978-0-521-25347-5ISBN: 9780521253475
Meer informatie...
Hightower, James R. (1970). The Poetry of T'ao Ch'ien. *
Meer informatie...
Idema, Wilt (1991). Spiegel van de klassieke Chinese poëzie. Meulenhoff.*
ISBN13: 978-90-290-4471-4ISBN: 9789029044714
Meer informatie...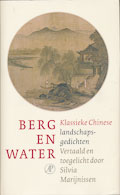 Marijnissen, Sylvia (2012). Berg en water: Klassiek Chinese landschapsgedichten. De Arbeiderspers.*
ISBN13: 978-90-295-8412-8ISBN: 9789029584128
Swartz, Wendy (2008). Reading Tao Yuanming: Shifting Paradigms of Historical Reception (427–1900). Harvard University Asia Center.*
ISBN13: 978-0-674-03184-5ISBN: 9780674031845
Meer informatie...
Boeken 1 tot 5 van de 5