世說新語
Shishuo Xinyu - Waar de wereld over praat, nieuwe collectie
[ Shih-shuo Hsin-yu].
Engelse titel: New account of tales of the world
Een verzameling van meer dan duizend historische anekdotes en karakterschetsen samengesteld door Liu Yiqing (403-444).
Wikipedia: The book contains around 1,130 historical anecdotes and character sketches of around 600 literati, musicians and painters who lived in the Han and Wei–Jin periods (2nd-4th centuries). Chapter 19, for instance, has 32 stories about outstanding women. It is thus both a biographical source and a record of colloquial language. (..) Although most of the anecdotes and personalities are attested in other sources, traditional Chinese bibliographers did not classify Shishuo Xinyu as history but as a novel / "minor talk" (小说 xiao shuo), a term that was later used to refer to fiction.
Ga naar de auteurspagina
Liu Yiqing
---
Indeling tekst
Het boek bestaat uit 36 hoofdstukken
01 德行第 Virtuous Conduct
02 言語第 Speech and Conversation
03 政事第 Affairs ofState
04 文學第 Letters and Scholarship
05 方正第 The Square and the Proper
06 雅量第 Cultivated Tolerance
07 I識鑑第 nsight and Judgment
08 賞譽第 Appreciation and Praise
09 品藻第 Grading Excellence
10 規箴第 Admonitions and Warnings
11 捷悟第 Quick Perception
12 夙惠第 Precocious Intelligence
13 豪爽第 Virility and Boldness
14 容止第 Appearance and Manner
15 自新第 Self-renewal
16 企羨第 Admiration and Emulation
17 傷逝第 Grieving for the Departed
18 栖逸第 Reclusion and Disengagement
19 賢媛第 Worthy Beauties
20 術解第 Technical Understanding
21 巧藝第 Skill and Art
22 寵禮第 Favor and Veneration
23 任誕第 The Free and Unrestrained
24 簡傲第 Rudeness and Arrogance
25 排調第 Taunting and Teasing
26 輕詆第 Contempt and Insults
27 假譎第 Guile and Chicanery
28 黜免第 Dismissal from Office
29 儉嗇第 Stinginess and Meanness
30 汰侈第 Extravagance and Ostentation
31 忿狷第 Anger and Irascibility
32 讒險第 Slander and Treachery
33 尤悔第 Blameworthiness and Remorse
34 紕漏第 Crudities and Slips of the Tongue
35 惑溺第 Delusion and Infatuation
36 仇隙第 Hostility and Alienation
---
Literatuur en vertalingen
Hieronder kunt u een selectie maken van de verschillende publicatievormen en de taal. Ik beperk me tot vier taalgebieden (Nederlands, Engels, Frans en Duits). De meeste literatuur is overigens engelstalig.
U kunt bij teksttype ook apart de vertalingen selecteren.
Boeken 1 tot 2 van de 2
Mather, Richard B. (2002). Shih-shuo Hsin-yu: A news Account of Tales of the World. University of Michigan Center.*
1e editie 1976
ISBN13: 978-1-938937-01-9ISBN: 9781938937019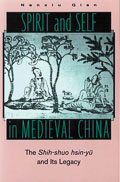 Qian, Nanxiu (2001). Spirit and Self in medieval China: The Shih-shuo hsin-yü and Its Legacy. University of Hawaii Press.*
ISBN13: 978-0-8248-2309-2ISBN: 9780824823092
Meer informatie...
Boeken 1 tot 2 van de 2